Name of animal-plant: Bluefin trevally
Species name: Caranx melampygus
The bluefin trevally, Caranx melampygus (also known as the bluefin jack, bluefin kingfish, bluefinned crevalle, blue ulua, omilu and spotted trevally), is a species of large, widely distributed marine fish classified in the jack family, Carangidae. The bluefin trevally is distributed throughout the tropical waters of the Indian and Pacific Oceans, ranging from Eastern Africa in the west to Central America in the east, including Japan in the north and Australia in the south. The species grows to a maximum known length of 117 cm and a weight of 43.5 kg, however is rare above 80 cm.
Bluefin trevally are easily recognised by their electric blue fins, tapered snout and numerous blue and black spots on their sides. Juveniles lack these obvious colours, and must be identified by more detailed anatomical features such as fin ray and scute counts. The bluefin trevally inhabits both inshore environments such as bays, lagoons and shallow reefs, as well as deeper offshore reefs, atolls and bomboras. Juveniles prefer shallower, protected waters, even entering estuaries for short periods in some locations.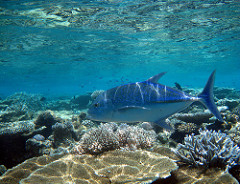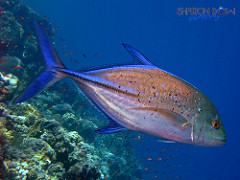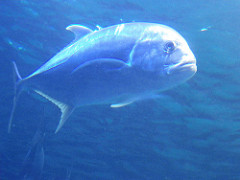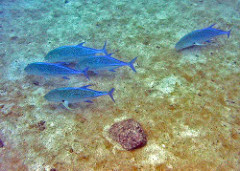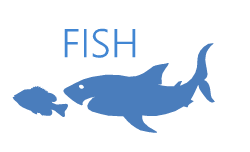 Animal type: FISH
A fish is any member of a group of organisms that consist of all gill-bearing aquatic craniate animals that lack limbs with digits. They form a sister group to the tunicates, together forming the olfactores. Included in this definition are the living hagfish, lampreys, and cartilaginous and bony fish, as well as various extinct related groups. Tetrapods emerged within lobe-finned fishes, so cladistically they are fish as well. However, traditionally fish are rendered paraphyletic by excluding the tetrapods (i.e., the amphibians, reptiles, birds and mammals which all descended from within the same ancestry). Because in this manner the term "fish" is defined negatively as a paraphyletic group, it is not considered a formal taxonomic grouping in systematic biology. The traditional term pisces (also ichthyes) is considered a typological, but not a phylogenetic classification.
Subcategory: m_pelagic
Pelagic fish live in the pelagic zone of ocean or lake waters – being neither close to the bottom nor near the shore – in contrast with demersal fish, which do live on or near the bottom, and reef fish, which are associated with coral reefs.
The marine pelagic environment is the largest aquatic habitat on Earth, occupying 1,370 million cubic kilometres (330 million cubic miles), and is the habitat for 11% of known fish species. The oceans have a mean depth of 4000 metres. About 98% of the total water volume is below 100 metres (330 ft), and 75% is below 1,000 metres (3,300 ft).
Fact:
All animals and plants are given a species name based on a technical term in biological taxnomy. The species name consists of two words and is based on Latin.
The first part of the name identifies the genus to which the species belongs and  the second part identifies the species within the genus. In this animals case it is: Caranx melampygus
Photos by Haanee Naeem, Sharon Emma Photography, KiwiHugger, newfinon,
You might be interested in these articles also: