Name of animal-plant: Skipjack herring
Species name: Alosa chrysochloris
The skipjack shad (Alosa chrysochloris) is a North American, migratory, fresh- and brackish water fish species in the herring family Clupeidae. The name skipjack shad comes from the fact that it is commonly seen leaping out of the water while feeding. Other common names include blue herring, golden shad, river shad, Tennessee tarpon, and McKinley shad. The skipjack shad is restricted to the Gulf of Mexico drainage basins. Skipjack shad are found in clear to moderately turbid water in areas with flow. Because they are a migratory species, dams often impede their reproduction. Records suggest that this species was much more abundant in the Upper Mississippi River basin before it was impounded. Currently, the skipjack shad is most abundant in the Upper Mississippi River below the mouth of the Ohio River. They are known as an "early-run" species as they migrate to spawn in the early spring.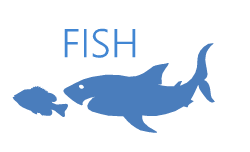 Animal type: FISH
A fish is any member of a group of organisms that consist of all gill-bearing aquatic craniate animals that lack limbs with digits. They form a sister group to the tunicates, together forming the olfactores. Included in this definition are the living hagfish, lampreys, and cartilaginous and bony fish, as well as various extinct related groups. Tetrapods emerged within lobe-finned fishes, so cladistically they are fish as well. However, traditionally fish are rendered paraphyletic by excluding the tetrapods (i.e., the amphibians, reptiles, birds and mammals which all descended from within the same ancestry). Because in this manner the term "fish" is defined negatively as a paraphyletic group, it is not considered a formal taxonomic grouping in systematic biology. The traditional term pisces (also ichthyes) is considered a typological, but not a phylogenetic classification.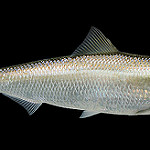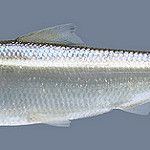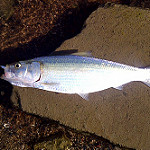 Subcategory: diadromous
Fact:
All animals and plants are given a species name based on a technical term in biological taxnomy. The species name consists of two words and is based on Latin.
The first part of the name identifies the genus to which the species belongs and  the second part identifies the species within the genus. In this animals case it is: Alosa chrysochloris
Photos by Lance Merry, Uland Thomas, mango verde,
You might be interested in these articles also: